Porsche Connect
When you're behind the wheel of a Sports Car, your focus is on the road, on the sensation and pleasure of driving. Porsche Connect takes care of everything else, acting as the interface between you and your Porsche, to ensure that you are able to enjoy the driving experience to the fullest. Porsche Connect is your digital co-pilot before, during and after your journey ‐ on your smartphone and integrated into your vehicle. Thanks to real-time information and a seamless connection, Porsche Connect brings together the digital and the real worlds. For pure, unadulterated driving pleasure.
The Charging Planner ‐ for uninterrupted driving pleasure.
The Charging Planner always calculates the fastest route for you and your Taycan, including required charging stops ‐ and does so in real-time using the latest traffic data and taking your current remaining range into account, so that you are well prepared for any eventualities.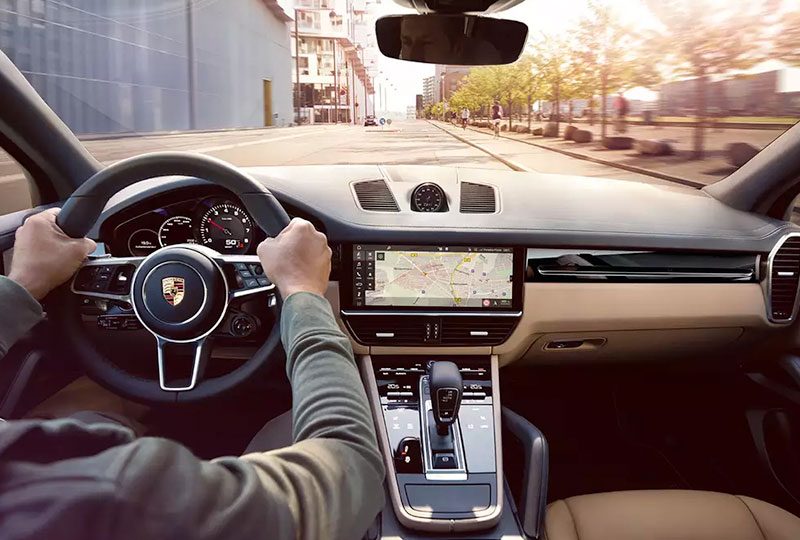 Navigation and Satellite map ‐ always the fastest route.
React to traffic in real time. Use Voice Control to get route and traffic updates and congestion information, leaving you free to enjoy your journey¹.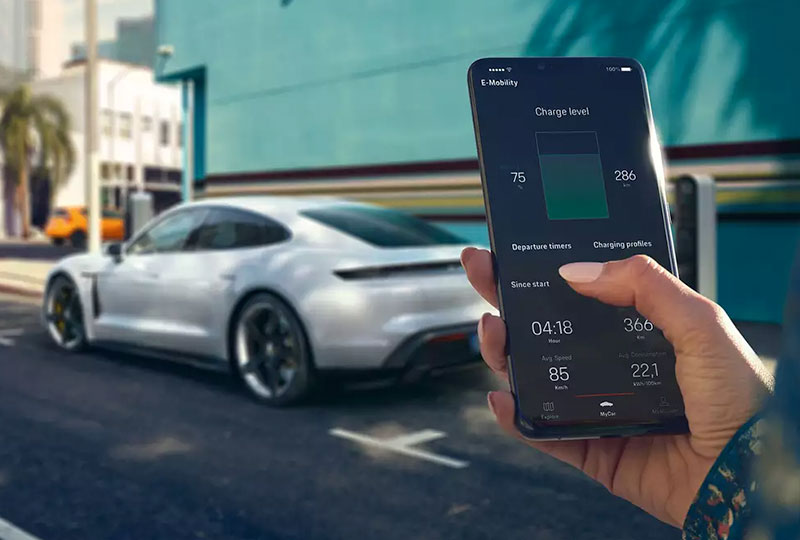 The Porsche Connect App ‐ all the information you need at a glance.
Control in the palm of your hand. With the Porsche Connect App you can remotely access much of your vehicle data from your smartphone, control your air conditioning¹, lock and unlock your vehicle and much more.
¹This service is available only for E-Hybrid and BEV models.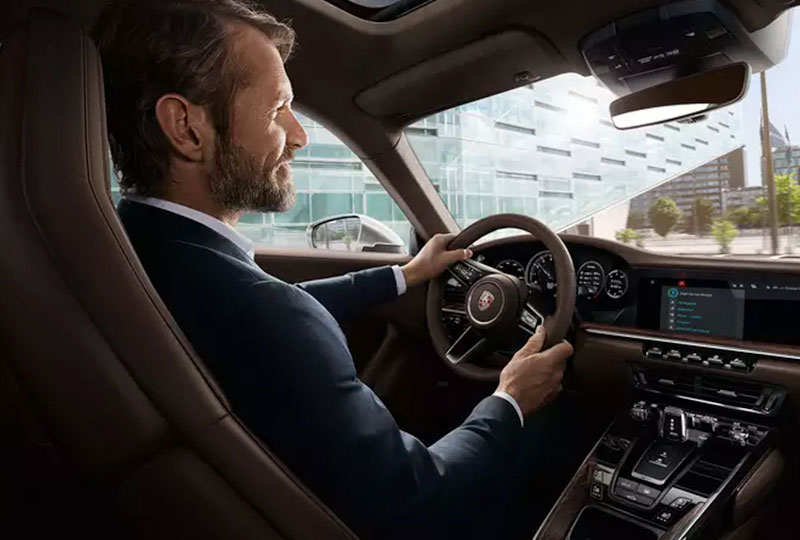 Porsche Voice Control ‐ obeys your every command.
All it takes is just a couple of simple voice commands. Want to change your route while driving? Get the latest weather data? Or set your air conditioning to the perfect temperature? Your sports car will do it for you¹.
¹The Voice Pilot service is available in German, English, French, Italian and Spanish. In order for the Voice Pilot to be used in these languages, the language must be set within the Porsche Communication Management (PCM).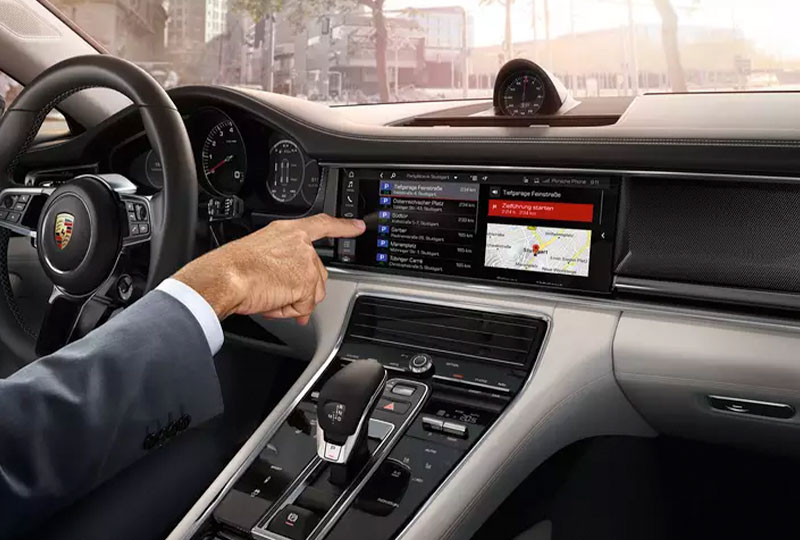 The Finder ‐ all destinations and information at your fingertips.
Find any location nearby. Use Porsche Communication Management to search for restaurants with their ratings, gas stations including current prices, and free public parking. With access to online destinations and a navigation database, it could not be easier.
¹This service is available only for E-Hybrid and BEV models.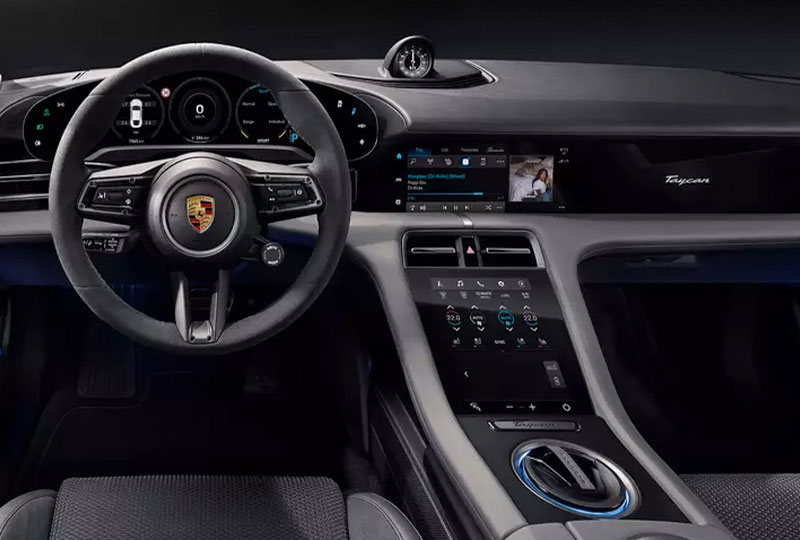 Stream with Apple Music built-in.
Simply tap on Apple Music on the Taycan touchscreen display to stream 60 million songs ad-free, playlists for any mood, and today's hottest sounds on the Beats ¹ global livestream with complimentary in-car music streaming data. You can even create your own custom station from any song played from radio while you drive. New owners get up to 6 months free of Apple Music.
Image courtesy of !K7 Music.
Apple Music subscription required. Complimentary in-car music streaming data included for three years.
¹This service is available only for E-Hybrid and BEV models.
OTHER FEATURES
These features are just a small selection of all the functions and services that Porsche Connect¹´2 offers you. You can find an overview of all the features available for your vehicle in the Porsche Connect Store. Discovering Connect Store¹Model year 2017 vehicles require a separate plug-in SIM card with a data plan which is not included to use Porsche Connect services.
1Model year 2018 and onward vehicles have an embedded SIM card including data to use some Porsche Connect services.
²The Porsche Connect range varies according to model and country availability. The information on this page is intended to provide you with a general overview. For service availability in your vehicle, log into the Porsche Connect Store with your Porsche ID.